Welcome to the site for all your live music needs on the Monterey Peninsula.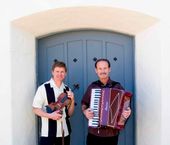 Monterey International plays well-known favorite songs from all over the world.  Mike Marotta (Accordion) and Dave Dally (Violin) are the core of the group that can be expanded to include singers, bass, percussion and others. Perfect for receptions & theme parties!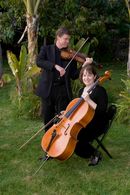 The Monterey Strings is composed of players from the Monterey String Quartet who play a variety of music from classical Wedding favorites to Ballads and Rock.  The group can perform in various combinations and instrumentation from solo, Duo, Trio, Quartet to a full orchestra.
Monterey International & Monterey Strings (& Elvis) join forces.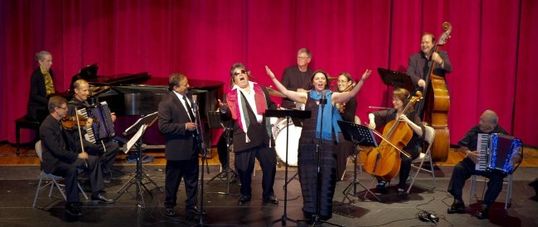 We have played at and for just about every Event Location on the Central Coast: Monterey (Monterey Bay Aquarium, InterContinental the Clement Monterey, Monterey Plaza Hotel, Monterey Conference Center, Portola Hotel, Hilton Hotel, Monterey Marriott, Hyatt Regency Monterey, Tarpy's Roadhouse, Perry House, La Mirada, Monterey Museum of Art, Memory Garden, Club Del Monte Naval Postgraduate School, Elk's Lodge, Old Monterey Inn, Sardine Factory), Carmel Valley (Wedgewood Rancho Canada, Holly Farm, Quail Lodge, Bernardus Lodge, Carmel Valley Ranch, Santa Lucia Preserve, Douglas Ranch, Los Laureles Lodge, Holman Ranch, Hidden Valley, Stonepine Estate Resort, Chateau Julien), Carmel (Il Fornaio, La Playa Hotel, Casanova's Restaurant, Mission Ranch, Stuart's Cove, Cypress Inn), Pebble Beach (The Lodge, Casa Palmero, Inn at Spanish Bay), Big Sur (Hyatt Highlands Inn, Ventana Inn, Post Ranch, Point 16, Paion, Big Sur River Inn, Tickle Pink Inn), Pacific Grove (Martine Inn, Lover's Point Park, Asilomar Conference Grounds, Fandango's), Seaside (Best Western Plus Monterey Beach Hotel, Embassy Suites, Bayonet Blackhorse Golf Course), Salinas (Corral de Tierra Country Club, Pasadera Country Club, San Juan Oaks), Santa Cruz (Seascape Resort, Chaminade Resort, Pasatiempo, Shadowbrook), Churches (Carmel Mission, San Carlos Cathedral, Church of the Wayfarer, Mayflower Church, First Presbyterian Church of Carmel and Monterey, Saint Mary's by-the-Sea, Holy Cross Church, Church in the Forest), Wineries, Restaurants and Private Homes.
Let us know how we can make your event a success!
Monterey International, Marotta Band and Bocce To Go contact:
Mike Marotta Jr.
(831) 373-1882
Monterey Strings contact:
Kelly Productions
(831) 375-7270
email Kelly Productions
Facebook: