Mike Marotta Jr. - Accordion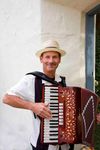 Mike Marotta Jr., a Monterey native, is the third generation of Marottas to entertain Peninsula audiences.  For over 45 years he has performed all styles of popular music on accordion and piano with the Marotta Band.
Dave Dally - Violin / Trumpet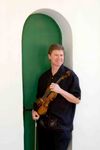 Dave Dally is leader of the Monterey String Quartet, Concertmaster of Ensemble Monterey and directs the orchestra at Monterey Peninsula College.  He has played with Mike Marotta Jr. for over twenty years.
Erasmo "Orazio" Aiello - Tenor

Erasmo 'Orazio' Aiello comes from Palermo, Sicily.  He has been discovered by musicians eager to share his gift of singing traditional Italian songs and opera with wider audiences.  During the day he practices while baking bread at his famous Palermo Bakery.
Makucho Bonilla - Percussion / Singer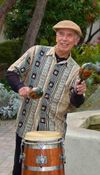 Manuel 'Macucho' Bonilla (Singer, Percussionist, Dancer) comes from Peru, and has played with Tommy Dorsey's band, DizzyGillespie, Little Richard, Yma Sumac and Kris Kristofferson.  As a percussionist he entertains audiences playing the cajon, bongos, congas, spoons, maracas, castanets and anything he can get his hands on.  As an award-winning dancer he toured Europe and the United States as a featured dancer for a big, dynamic group called the Latin Connection.  He blends his personality and talents with Monterey International as the lead singer, percussionist and dancer.
Let us know how we can make your event a success!
Monterey International, Marotta Band and Bocce To Go contact:
Mike Marotta Jr.
(831) 373-1882
Monterey Strings contact:
Kelly Productions
(831) 375-7270
email Kelly Productions
Facebook: