MSQ - Plugged is the contemporary version of the Monterey String Quartet with drums and amplification added for some extra kick.  Their repertoire ranges from swing, latin & ballads to rock 'n roll.
Songlist: MSQ_Songlist_4-5-13.pdf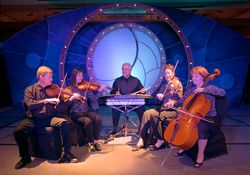 Very classy and great fun, MSQ - Plugged will add a convivial ambience to your dinner party or special event. Of course, they can still play the full range of classical repertoire too!
Let us know how we can make your event a success!
Monterey International, Marotta Band and Bocce To Go contact:
Mike Marotta Jr.
(831) 373-1882
Monterey Strings contact:
Kelly Productions
(831) 375-7270
email Kelly Productions
Facebook: